Research article

Open Access
Identification of uterine ion transporters for mineralisation precursors of the avian eggshell
Received: 24 April 2012
Accepted: 16 August 2012
Published: 4 September 2012
Abstract
Background
In Gallus gallus, eggshell formation takes place daily in the hen uterus and requires large amounts of the ionic precursors for calcium carbonate (CaCO3). Both elements (Ca2+, HCO3-) are supplied by the blood via trans-epithelial transport. Our aims were to identify genes coding for ion transporters that are upregulated in the uterine portion of the oviduct during eggshell calcification, compared to other tissues and other physiological states, and incorporate these proteins into a general model for mineral transfer across the tubular gland cells during eggshell formation.
Results
A total of 37 candidate ion transport genes were selected from our database of overexpressed uterine genes associated with eggshell calcification, and by analogy with mammalian transporters. Their uterine expression was compared by qRTPCR in the presence and absence of eggshell formation, and with relative expression levels in magnum (low Ca2+/HCO3- movement) and duodenum (high rates of Ca2+/HCO3- trans-epithelial transfer). We identified overexpression of eleven genes related to calcium movement: the TRPV6 Ca2+ channel (basolateral uptake of Ca2+), 28 kDa calbindin (intracellular Ca2+ buffering), the endoplasmic reticulum type 2 and 3 Ca2+ pumps (ER uptake), and the inositol trisphosphate receptors type 1, 2 and 3 (ER release). Ca2+ movement across the apical membrane likely involves membrane Ca2+ pumps and Ca2+/Na+ exchangers. Our data suggests that Na+ transport involved the SCNN1 channel and the Na+/Ca2+ exchangers SLC8A1, 3 for cell uptake, the Na+/K+ ATPase for cell output. K+ uptake resulted from the Na+/K+ ATPase, and its output from the K+ channels (KCNJ2, 15, 16 and KCNMA1).
We propose that the HCO3- is mainly produced from CO2 by the carbonic anhydrase 2 (CA2) and that HCO3- is secreted through the HCO3-/Cl- exchanger SLC26A9. HCO3- synthesis and precipitation with Ca2+ produce two H+. Protons are absorbed via the membrane's Ca2+ pumps ATP2B1, 2 in the apical membrane and the vacuolar (H+)-atpases at the basolateral level. Our model incorporate Cl- ions which are absorbed by the HCO3-/Cl- exchanger SLC26A9 and by Cl- channels (CLCN2, CFTR) and might be extruded by Cl-/H+ exchanger (CLCN5), but also by Na+ K+ 2 Cl- and K+ Cl- cotransporters.
Conclusions
Our Gallus gallus uterine model proposes a large list of ion transfer proteins supplying Ca2+ and HCO3- and maintaining cellular ionic homeostasis. This avian model should contribute towards understanding the mechanisms and regulation for ionic precursors of CaCO3, and provide insight in other species where epithelia transport large amount of calcium or bicarbonate.
Keywords
IonMineralCalciumTransporterUterusEggshellChicken
Background
Biomineralisation is a process by which living organisms develop mineral structures to perform a variety of roles related to support, defence and feeding. Amongst these, a large number of animals (birds, molluscs, foraminifera, corals, sea urchins) mineralises by co-precipitation of calcium (Ca
2+
) and carbonates (CO
3
2-
) to form a protective shell or a skeleton. The prerequisite for shell mineralisation is the supply of large amounts of Ca
2+
and CO
3
2-
in a limited extracellular milieu by trans-cellular transport, requiring the presence of ion channels, ion pumps and ion exchangers. In
Gallus gallus
, eggshell formation takes place daily in the hen uterus and is one of the most rapid mineralisation processes [
1
]. It requires large amount of calcium carbonate (CaCO
3
) as the hen exports the equivalent of her body weight as eggshell in one year of egg production (>1.5 kg). Both elements (Ca
2+
and HCO
3
-
) are not stored in the uterus but are continuously supplied during eggshell formation by the blood plasma via trans-epithelial transport taking place across the uterine glandular cells [
2
–
4
]. Early studies determined the ion concentrations of the uterine fluid, which bathes the eggshell and changes during the sequential stages of calcification (Table
1
) [
5
], identified several proteins involved in ion transport [
3
,
6
,
7
], and recorded changes in ion fluxes across the uterine epithelium in response to ion transporter inhibitors [
8
–
10
]. These classic approaches led to a hypothesis concerning the mechanisms of ion transfer through the uterine glandular cells (Figure
1
; [
1
]). In hens, the Ca
2+
blood (1.2 mM) and epithelial cell concentrations (10
-4
 mM), suggest that Ca
2+
entry in cell is passive via a Ca
2+
channel, which remains unidentified. The intracellular Ca
2+
transport through the cell involves 28 kDa calbindin [
3
,
11
,
12
]. The 28 kDa calbindin expression is greatly upregulated during eggshell formation and falls after suppression of calcification (by premature egg expulsion), suggesting a very close relationship between uterine calbindin levels and Ca
2+
flux [
11
,
13
,
14
]. This protein could also take part in maintaining low intracellular Ca
2+
to avoid cell death as observed in other species and tissues [
15
]. Ca
2+
secretion from epithelial cells to the uterine fluid is active involving a Ca
2+
ATPase, the activity of which varies with the stage of eggshell calcification [
4
,
7
]. A recent study [
16
] identified and localized the plasma membrane Ca
2+
ATPase isoform 4 (PMCA4) in the apical membrane of epithelial cells of king quail. The disruption of sodium (Na
+
) re-absorption by specific inhibitors in perfused uterus or
in vitro
reduced Ca
2+
secretion by 50% [
9
,
17
], revealing a strong relationship between Na
+
and Ca
2+
transfers and therefore the putative presence of Na
+
/Ca
2+
exchangers in uterine cells. The Na
+
/K
+
ATPase responsible for Na
+
re-absorption in the plasma membrane is characterised and is upregulated during the period of shell calcification [
18
].
Table 1
PH and ion concentrations in blood plasma, uterine fluid and epithelial cells during eggshell mineralisation[5]
Blood plasma

Epithelial cells

Uterine fluid

8 h PO

18 h PO

Ions

[mM]

[mM]

[mM]

[mM]

Ca2+

1.2

<0.0002

6

10

Na+

140

12

144

80

K+

4

139

12

60

HCO3-

23

12

60

110

pH

7.4

7.0-7.4

7.6

7.1

Cl-

130

4

71

45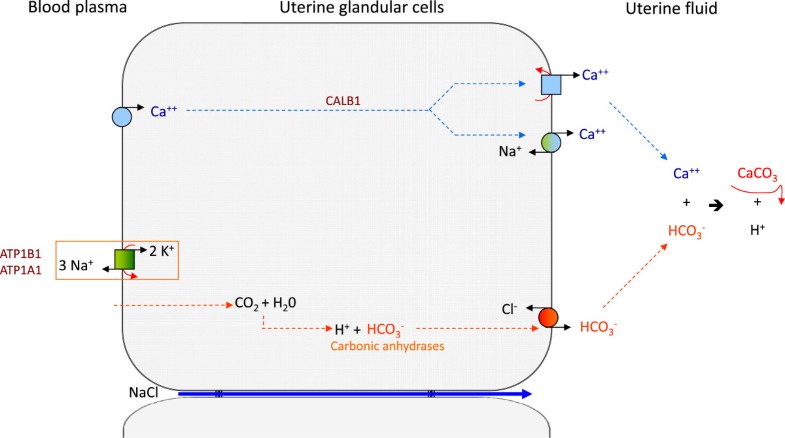 The second essential component of eggshell mineralisation is carbonate. Blood carbon dioxide (CO2) is provided in cells by passive diffusion through the plasma membrane [2, 19]. In the uterine tubular gland cells, a family of key enzymes, the carbonic anhydrases (CA) [6] catalyses the hydration of CO2 to HCO3- as confirmed by inhibition of HCO3- production and secretion by acetazolamide, a CA inhibitor [9]. Chloride (Cl-) is absorbed by the uterus and any perturbation of Na+ flux by ouabain [9] reverses both the Na+ and Cl- fluxes, but reduces also HCO3- secretion suggesting that its transfer is dependent on Cl- via a Cl-/HCO3- exchanger which has not been identified. Finally, the production of HCO3- in tubular gland cells and of CO32- in the uterine fluid generates high levels of protons (H+) ions. The concomitant decrease in uterine and plasma pH during calcification reflects the reabsorption of H+[5].
Only a few genes and related proteins involved in uterine ion transfer have been identified to date. Our objective therefore was to use the recent information issuing from the chicken genome sequencing [20] and subsequent enrichment in the chicken gene/protein databases to identify uterine ion transport proteins. Use of a recent transcriptomic study revealing uterine genes related to eggshell calcification [21] and of the analogies with transporters previously described in mammalian tissues transferring large quantities of ions (intestine, kidney, pancreas) allows the identification of putative genes encoding proteins involved in uterine trans-epithelial ion transports. Confirmation of their presence in birds and evaluation of their involvement have been analysed by comparing gene expression in the uterus compared to the magnum (the oviduct segment responsible for the synthesis and secretion of egg white proteins) and the duodenum (Ca2+ uptake and neutralization of stomach acid), where both Ca2+ and HCO3- trans-epithelial transfers are respectively low and high. The magnum and the uterus secrete a large amount of water, Na + and Cl- during the phase of hydration of egg albumen which takes place before the active phase of eggshell formation in the uterus [5, 22]. By contrast, the duodenum is the proximal region of the intestine with a high capacity for Ca2+ absorption [23] and secretes a large amount of HCO3- for neutralization of gastric acidity [24, 25]. An additional experimental approach was the comparison of gene expression in the uterus isolated from hens at the stage of eggshell formation, to those for which eggshell formation was suppressed by premature egg expulsion. We identified a large number of genes coding for ion transport and propose a general model describing the putative contribution and localisation of the ion transporters in the tubular gland cell of the hen's uterus.
Discussion
Eggshell calcification in the avian uterus is one of the fastest mineralisation processes in the living world. The Ca2+ metabolism is intense in Gallus gallus hens which export a large amount of Ca2+ (2 g daily) and consequently there are numerous physiological adaptations to support this function [1, 27–30]. In fact, an egg-producing hen shows a specific appetite for Ca2+ a few hours before shell calcification is initiated and its capacity to absorb Ca2+ in the intestine increases by 6-fold due to large stimulation of the active metabolite of vitamin D at the kidney level. The uterus acquires the capacity to transfer a great quantity of Ca2+ and HCO3- for supplying mineral precursors of the eggshell during less than 14 hours. This model is therefore particularly relevant to explore the mechanisms of mineral transport needed for the extracellular biomineralisation of the eggshell. In this study, we focused on intracellular ionic transporters and did not explore the proteins involved in their regulation. This process has been the object of many physiological and pharmacological works as reviewed by Nys [1] and Bar [30]. However, the molecular identification of ionic transporters remains incomplete in the uterus. Genome sequencing in human and other mammalian species has contributed to the molecular identification of genes and related proteins involved in ionic trans-epithelial transfer in the intestine and kidneys [24, 26]. By using this literature and data provided by a recent high throughput analysis of chicken uterine genes related to eggshell calcification [21], we identified 37 putative genes encoding ion trans-epithelial transporters and tested their involvement in providing mineral precursors in the hen's uterus. Analysis of their expression by RT-PCR, showed that 34 of these genes were expressed at the uterine level. In order to study their involvement in providing both Ca2+ and HCO3- for eggshell formation, the expression of these 34 genes in the uterus was quantified by qRT-PCR and compared with two other epithelia (magnum and duodenum) where Ca2+ and HCO3- transfers are respectively low and high. In addition, the expression of these genes was compared in the uterus during two situations: during eggshell calcification and when Ca2+ and HCO3- secretions were suppressed due to premature egg expulsion. These approaches allowed the identification of numerous transporting proteins providing minerals for shell formation in the hen's uterus.
Conclusions
Initial studies on ion transfer in the uterus using physiological and pharmacological approaches provided a preliminary model of ion transfer contributing to the uterine Ca2+ and HCO3- necessary for shell mineralisation (Figure1) [1, 5, 8–10, 17]. The current approaches using knowledge gleaned from the chicken genome sequence and uterine transcriptomic expression data [21] identified numerous genes encoding putative transporters supplying the mineral precursors of eggshell mineralisation. We have used this information to build a model describing the ion supply mechanisms in the uterus, following a logical sequence for ion transfers for secretion of large amounts of Ca2+ and HCO3- to form the eggshell (Figure4). This work identified 31 genes and related proteins involved in this process. It is consistent with preliminary hypotheses. Our analysis also revealed that analogies exist in the mechanisms of HCO3- secretion by pancreatic duct cells and by duodenum, and to a lower extent with intestinal epithelial cells for Ca2+ movement, even if the Ca2+ flux is reversed between both uterus and duodenum.
The main steps of ion transfer in the hen's uterus can be summarised (as presented in Figure
4
):
(1)

Ca2+ secretion through epithelial glandular cells involves TRPV6 Ca2+ channel in the basolateral membrane (cell uptake entry), 28 kDa calbindin (CALB1, intracellular transfer), endoplasmic Ca2+ pumps type 2, 3 (ATP2A2, 3, uptake by endoplasmic reticulum), and inositol trisphosphate receptors type 1, 2, 3 (ITPR1, 2, 3, output from the reticulum). Ca2+ is then extruded from the glandular cells by the membrane's Ca2+ pumps (ATP2B1, 2) and Ca2+/Na+ exchangers (SLC8A1, 3). The endoplasmic Ca2+ pumps, inositol trisphosphate receptors, and 28 kDa calbindin contribute to maintain a low intracellular free Ca2+ concentration essential for cell survival.

(2)

Na+ transport involves three Na+ channels (subunits SCNN1A, 1B, 1 G; uptake in the cell), Na+/Ca2+ exchangers SLC8A1 and 3 (uptake in the cell) and the Na+/K+ ATPase (ATP1A1, ATP1B1, output from the cell).

(3)

K+ uptake entry into the cell results from the Na+/K+ ATPase; the K+ channels (KCNJ2, 15, 16 and KCNMA1) contribute to its output release at the apical membrane.

(4)

HCO3 - is mainly produced from CO2 by CA2 and to a lesser extent by CA4, and is also provided at a low level from plasma by the Na+/HCO3 + co-transporters (SLC4A4, 5, 10). HCO3 - is exported from the cell through the HCO3 -/Cl- exchanger SLC26A9.

(5)

HCO3 - synthesis in the cell and co-precipitation of HCO3 - with Ca2+ in the uterine fluid produces two H+ which are transferred to plasma via the membrane Ca2+ pumps ATP2B1, 2 in the apical membrane and the VAT pump at the basolateral level.

(6)

Cl- ions in the uterine fluid enter the cell by the HCO3 -/Cl- exchanger SLC26A9 and by Cl- channels (CLCN2, CFTR uptake in the cells), and might be extruded by Cl-/H+ exchanger (CLCN5), but also by Na+-K+-2Cl- and K+-Cl- cotransporters (SLC12Ax).
This model proposes a large but not exhaustive list of ionic transfer proteins involved in the supply of Ca2+ and HCO3- or in maintaining cellular homeostasis (volume, electroneutrality). The model qualitatively describes putative mechanisms and cellular localisation of the candidates. These hypotheses relying on expression of the genes and on analogies with other tissues that transfer large amount of ions, need to be confirmed using immunochemistry for their cell localisation or by specific inhibition, to establish their relative contribution and understand their interaction and regulation. This avian model where huge amounts of Ca2+ and HCO3- are exported daily following a precise spatial and temporal sequence should contribute to understanding the mechanism and regulation of ionic precursors of CaCO3 and provide insight for other species secreting a CaCO3 biomineral such as coral, molluscs, foraminifera or sea urchins.
Methods
Animals handling and housing
The experiment was conducted at the Unité Expérimentale Pôle d'Expérimentation Avicole de Tours (UEPEAT - INRA, Tours, France) according to the legislation on research involving animal subjects set by the European Community Council Directive of November 24, 1986 (86/609/EEC) and under the supervision of an authorized scientist (Authorization # 7323, J Gautron). Forty week old laying hens (ISA brown strain) were caged individually and subjected to a light/dark cycle of 14 hour light and 10 hour darkness (14 L:10D). The hens were fed a layer of mash as recommended by the Institut National de la Recherche Agronomique (INRA). Each cage was equipped with a device for automatic recording of oviposition time.
Collection of laying hens oviduct tissues
Tissue samples (magnum, uterus, duodenum, kidney and gastrocnemius) were harvested in 8 hens while the egg was in the uterus during the active phase of calcification (16–18 hour post-ovulation). Additionally, uterine tissues were collected from 8 birds injected with 50 μg of F2-α prostaglandin during 4 consecutive days to expel the egg before mineralisation had begun (6 to 8 hours post ovulation). All tissue samples were quickly frozen in liquid nitrogen and stored at −80°C until RNA extraction.
Determination of Gallus gallus cDNA sequences involved in mineral supply and design of primers
The list of ion transporters was established using recent transcriptomic data and Gallus gallus databases when available. The transporters not yet identified in chicken were identified using human orthologs in Swiss-Prot/TrEMBL and RefSeq databases. The corresponding human sequences were aligned to Gallus gallus Refseq database using BlastN algorithm an e-value cut-off of 10-20. Primers (Table3), were designed from the Gallus gallus using Mac vector software (MacVector, Cambridge, U.K.). The quality of the primers was tested by virtual PCR for dimerization and specificity using Amplify 3X software [86].
RNA isolation, reverse transcription and classical
Total RNA was extracted from frozen tissue samples using a commercial kit (RNeasy Mini kit, Qiagen; Courtaboeuf, France) and simultaneously treated with DNase (RNase-free DNase set, Qiagen; Courtaboeuf, France) according to the manufacturer's procedure. RNA concentrations were measured at 260 nm using a NanodropND 1000 (Thermo Fischer, Wilmington, Delaware, USA). The integrity of RNA was evaluated on a 2% agarose gel and with an Agilent 2100 Bioanalyser (Agilent Technologies, Massy, France). Only RNA samples with a 28S/18S ratio > 1.3 were considered for RT-PCR and qRT-PCR experiments. Total RNA samples (5 μg) were subjected to reverse-transcription using RNase H-MMLV reverse transcriptase (Superscript II, Invitrogen, Cergy Pontoise, France) and random hexamers (Amersham, Orsay, France). PCR was performed using primers (Table3) for 30 cycles at 60°C. The specificity of the PCR reaction was assessed by sequencing of PCR products (Cogenics, Meylan, France), and alignment of the sequences using BLASTN algorithm against the Gallus gallus RefSeq nucleic data bank.
Quantitative RT-PCR (qRT-PCR)
Alternatively, cDNA sequences were amplified in real time using the qPCR Master mix plus for SYBR® Green I assay (Eurogentec, Seraing, Belgium) with the ABI PRISM 7000 Sequence Detection System (Applied Biosystems, France). To account for variations in mRNA extraction and reverse transcription reaction between samples, mRNA levels were normalized either to ribosomal 18S rRNA levels for each sample in the first series of comparison (magnum, uterus, and duodenum) or to TBP (TATA box binding protein) for each samples in the second series of comparison (comparison of expression in the uterus with and without mineralisation). The expression levels of 18S rRNA were measured using TaqMan Universal PCR Master Mix and developed Taq-Man assay for human 18S rRNA (Applied Biosystems, Courtaboeuf, France) as previously validated [87]. The PCR conditions consisted of an uracil-N-glycosylase preincubation step at 50°C for 2 min, followed by a denaturation step at 95°C for 10 min, and 40 cycles of amplification (denaturation for 15 sec at 95°C, annealing and elongation for 1 min at 60°C). A melting curve was carried out from 60 to 95°C for each sample amplified with SYBR® Green. Each run included triplicates of no template controls, standards and samples. Standards correspond respectively to a pool of the magnum, uterus, and duodenum RT products for the first series of experiments and of the uterus with and without mineralisation for the second series of comparison. The threshold cycle (Ct), defined as the cycle at which fluorescence rises above a defined base line, was determined for each sample and cDNA control. A calibration curve was calculated using the Ct values of the cDNA control samples and relative amount of unknown samples were deduced from this curve. The ratio value was calculated for each sample as sample/18 S rRNA in the first comparison (magnum, uterus, and duodenum) or sample/TBP in the second comparison (uterus with and without calcification). The log of the ratio was used for statistical analysis using the 5th version of StatView, software (SAS Institute Inc. Cary, NC). A one-way analysis of variance was performed to detect differences (P < 0.05; 8 replicates/treatment) in gene expression amongst different conditions.
Declarations
Acknowledgements
The authors gratefully acknowledge the European Community for its financial support through the RESCAPE project (RESCAPE Food CT 2006–036018), and SABRE program (European Integrating project Cutting-Edge Genomics for Sustainable Animal Breeding Project 016250). VJ thanks the Region Centre and INRA for financial support. We also thank Magali Berges for her technical assistance and Jean Didier Terlot-Brysinne for care of experimental birds. We wish to thank Prof. Maxwell Hincke, Department of Cellular & Molecular Medicine, University of Ottawa, 451 Smyth Road, Ottawa K1H 8 M5, Canada, for his critical reading of the manuscript and constructive remarks.
Authors' Affiliations
(1)
INRA, UR83 Recherches Avicoles, Nouzilly, France
Copyright
© Jonchère et al.; licensee BioMed Central Ltd. 2012
This article is published under license to BioMed Central Ltd. This is an Open Access article distributed under the terms of the Creative Commons Attribution License (http://creativecommons.org/licenses/by/2.0), which permits unrestricted use, distribution, and reproduction in any medium, provided the original work is properly cited.