Research article
Open Access
Disulfide high mobility group box-1 causes bladder pain through bladder Toll-like receptor 4
BMC Physiology
BMC series – open, inclusive and trusted
2017
17:6
Received: 9 December 2016
Accepted: 18 May 2017
Published: 25 May 2017
Abstract
Background
Bladder pain is a prominent symptom in several urological conditions (e.g. infection, painful bladder syndrome/interstitial cystitis, cancer). Understanding the mechanism of bladder pain is important, particularly when the pain is not accompanied by bladder pathology. Stimulation of protease activated receptor 4 (PAR4) in the urothelium results in bladder pain through release of urothelial high mobility group box-1 (HMGB1). HGMB1 has two functionally active redox states (disulfide and all-thiol) and it is not known which form elicits bladder pain. Therefore, we investigated whether intravesical administration of specific HMGB1 redox forms caused abdominal mechanical hypersensitivity, micturition changes, and bladder inflammation in female C57BL/6 mice 24 hours post-administration. Moreover, we determined which of the specific HMGB1 receptors, Toll-like receptor 4 (TLR4) or receptor for advanced glycation end products (RAGE), mediate HMGB1-induced changes.
Results
Disulfide HMGB1 elicited abdominal mechanical hypersensitivity 24 hours after intravesical (5, 10, 20 μg/150 μl) instillation. In contrast, all-thiol HMGB1 did not produce abdominal mechanical hypersensitivity in any of the doses tested (1, 2, 5, 10, 20 μg/150 μl). Both HMGB1 redox forms caused micturition changes only at the highest dose tested (20 μg/150 μl) while eliciting mild bladder edema and reactive changes at all doses. We subsequently tested whether the effects of intravesical disulfide HMGB1 (10 μg/150 μl; a dose that did not produce inflammation) were prevented by systemic (i.p.) or local (intravesical) administration of either a TLR4 antagonist (TAK-242) or a RAGE antagonist (FPS-ZM1). Systemic administration of either TAK-242 (3 mg/kg) or FPS-ZM1 (10 mg/kg) prevented HMGB1 induced abdominal mechanical hypersensitivity while only intravesical TLR4 antagonist pretreatment (1.5 mg/ml; not RAGE) had this effect.
Conclusions
The disulfide form of HMGB1 mediates bladder pain directly (not secondary to inflammation or injury) through activation of TLR4 receptors in the bladder. Thus, TLR4 receptors are a specific local target for bladder pain.
Keywords
HMGB1TLR4RAGEbladder painabdominal mechanical hypersensitivityurothelium
Background
Common causes of bladder pain are bacterial infection, painful bladder syndrome/interstitial cystitis (PBS/IC) and cancer. Bladder pain in the absence of infection or bladder pathology is a feature of PBS/IC patients, along with increased frequency and urgency [1]. However, common rodent models of bladder pain usually produce significant bladder injury and inflammation [2, 3].
Cyclophosphamide (CYP)-induced cystitis (a widely used chemical model) elicits severe bladder inflammation and urothelial damage along with significantly decreased abdominal mechanical threshold [4, 5]. Interestingly, CYP-induced bladder pain (abdominal mechanical hypersensitivity) was blocked by systemic administration of a high-mobility group box 1 protein (HMGB1) neutralizing antibody or a HMGB1 receptor antagonist without changing CYP-induced inflammation [5].
HMGB1 is a ubiquitous and abundant non-histone nuclear chromatin-binding protein and a damage-associated molecular pattern molecule. HMGB1 is actively secreted in response to inflammatory signals, acting as a pro-inflammatory molecule in addition to its passive release from necrotic cells in various organs [6]. The extracellular activities of HMGB1 depend on the redox state of HMGB1 resulting in activation of different HMGB1 receptors. Physical/chemical trauma to tissues or organs results in the release of all-thiol (all-reduced) HMGB1, which binds to receptor for advanced glycation end products (RAGE) and potentiates chemotaxis [7]. During inflammation, all-thiol HGMB1 may be oxidized to the disulfide form of HGMB1, which then binds to Toll-like receptor 4 (TLR4) to induce cytokine production [7]. It is likely that both redox forms contribute to inflammation resulting from tissue damage. HMGB1 is a key player in the extracellular environment as a pro-inflammatory molecule and is also gaining prominence as a mediator in pain processing [6, 8].
We recently reported that activation of urothelial protease activated receptor 4 (PAR4) elicits bladder pain in mice without causing overt bladder inflammation [9]. In this model, PAR4 activation results in release of urothelial macrophage migration inhibitory factor (MIF) [9] and HMGB1 [10] along with abdominal mechanical hypersensitivity, representative of bladder pain. Systemic pretreatment with MIF antagonist prevented urothelial HMGB1 release [9] and abdominal mechanical hypersensitivity caused by intravesical PAR4-activating peptide (PAR4-AP) [9]. Moreover, systemic administration of a HMGB1 inhibitor also blocked abdominal mechanical hypersensitivity caused by intravesical PAR4-AP [10]. This indicates that HMGB1 signaling is involved in PAR4-induced bladder pain. However, it is still not known which redox form of HMGB1 is responsible for bladder pain and the type or location of the HMGB1 receptor mediating the effect. The current study utilized two redox forms of HMGB1 and receptor-specific antagonists in a rodent model of bladder pain without inflammation to explore the etiology of bladder pain.
Discussion
We recently reported that intravesical activation of urothelial PAR4 receptors resulted in release of urothelial HMGB1, which mediated bladder pain [10]. Release of urothelial adenosine triphosphate (ATP) and activation of transit receptor potential vanilloid 1 (TRPV1) are well-described mechanisms of bladder pain [16–19]. Whether HMGB1 elicits bladder pain through ATP and/or TRPV1 remains to be investigated.
The present study extends our earlier findings since we clearly demonstrate that HMGB1 infused into the bladder is capable of inducing abdominal mechanical hypersensitivity (an indirect index of bladder pain). Furthermore, the redox state of HMGB1 is important since only intravesical disulfide HMGB1 but not the all-thiol (reduced) form induced abdominal mechanical hypersensitivity.
We also examined physiological and histological changes in response to different doses and different redox forms of HMGB1 infused intravesically. Changes in micturition parameters were only observed with the highest dose of disulfide and all-thiol HMGB1 (20 μg; decreased micturition volume and increased frequency) whereas none of the lower doses had any effect on micturition (Table 1). In terms of histological changes, only the highest dose tested (20 μg) of either disulfide or all-thiol HMGB1 was able to elicit minimal bladder inflammation (Table 2), while minimal to mild bladder edema and subtle stromal reactive changes were present with all doses of either disulfide or all-thiol HMGB1. These histological findings are consistent with our previous publication that HMGB1 mediates bladder pain without overt bladder inflammation [10]. Similarly, intraplantar injection of HMGB1 at 10 and 20 μg caused paw withdrawal latency decrease as well as edema but only 20 μg HMGB1 elicited mild inflammation in hind paw [20]. Furthermore, our findings that disulfide HMGB1 mediates bladder pain in a model with no overt bladder inflammation extend the findings of Tanaka et al [5] who found that systemic HMGB1 antagonists could prevent bladder pain after chemical (cyclophosphamide) injury of the bladder but did not affect inflammatory changes in this chemical cystitis model.
Recent studies implicate HMGB1 in mediating pain both at the organ level and at the central nervous system level (for a review see Kato J & Svensson CI) [6]. Pain hypersensitivity was elicited when HMGB1 was injected into sciatic nerve and anti-HMGB1 treatment alleviated mechanical allodynia after injury, but the nociceptive signaling pathway is still unclear [21]. Thrombomodulin (HMGB1 sequester) treatment alleviates intraplantar injection HMGB1 induced mechanical hypersensitivity, indicating HMGB1's peripheral effect in nociception [20]. As an endogenous inflammatory mediator, HMGB1 influences adjacent neurons and glia, which contributes to the development of neuropathic pain states [21]. One report showed an increase in HMGB1 re-distribution into cytoplasm of sensory neurons in dorsal root ganglion in a model of tibial nerve injury induced neuropathic pain [22]. In this model, systemic application of glycyrrhizin, a HMGB1 blocker, reversed the neuropathic pain [22]. TLR4 and RAGE receptors were shown to be mediating nociception differentially in peripheral tissue and nervous system while HMGB1 redox forms recognize their receptors respectively [11, 23–27]. TLR4 downregulation in spinal glial cells attenuates mechanical allodynia in a rat model of trinitrobenzene sulfonic acid induced chronic pancreatitis [28]. On the other hand, RAGE mRNA and protein were increased in dorsal root ganglia after tibial nerve injury and RAGE inhibition by neutralizing antibody reversed the pain related behavior [29]. There is also evidence that systemic or intrathecal HMGB1 neutralizing antibody or a specific antagonist can alleviate pain mediated by TLR4 or RAGE receptors, suggesting central effect of TLR4 and RAGE receptors [8, 20].
Two strategies were used in the current study to identify the HMGB1 receptor mediating the disulfide HMGB1-induced abdominal mechanical hypersensitivity. A dose of disulfide HMGB1 (10 μg) that produced no inflammation and only minimal edema was chosen for the intravesical infusion. Systemic pretreatment with either a TLR4 (TAK-242) or a RAGE (FPS-ZM1) antagonist blocked abdominal mechanical hypersensitivity induced by disulfide HMGB1. Since both of these antagonists cross the blood-brain barrier [12, 30], the effect may be due to antagonism of central TLR4 or RAGE receptors and these receptors mediate pain in other models [24, 25]. We applied antagonists intravesically to determine whether and which of these receptors mediated the effect of disulfide HMGB1 at the organ level. TLR4 and RAGE receptors are found in the urothelium [26, 31] and sacral DRGs [29, 32] also contain TLR4 and RAGE although whether they innervate the bladder is not known. Intravesical pretreatment with TLR4 antagonist prevented hypersensitivity caused by disulfide HMGB1 while RAGE antagonist did not. Taken together, these findings indicate that TLR4 receptors at the organ level are responsible for the abdominal mechanical hypersensitivity induced by bladder infusion of disulfide HMGB1.
Our results also indicate that RAGE receptors modulate the effects of intravesical infusion of HMGB1 by acting not at the organ (i.e. bladder level) but possibly at the central nervous system level, since systemic administration was effective in blocking abdominal mechanical hypersensitivity. This agrees with the observation by Tanaka, et al. [5] that systemic administration of an antibody to HMGB1 or a RAGE inhibitor blocked cyclophosphamide- induced bladder pain. In contrast, we show that a systemic TLR4 antagonist administered systemically prevented disulfide HMGB1-induced bladder pain while Tanaka reported that a systemic TLR4 inhibitor had no effect on CYP-induced bladder pain [5]. This discrepancy may be due to the different method used to elicit bladder pain. Disulfide HMGB1 resulted in only minimal histological changes in the bladder while CYP is a strong chemical irritant that results in severe inflammation and hemorraghic cystitis [4].
PBS/IC is a condition characterized by bladder pain (or discomfort), frequency and urgency with unclear etiology [33] and in the absence of obvious bladder pathology [34]. Our current findings showed that disulfide HMGB1 elicited pain may account for bladder pain observed in the absence of inflammation. We realize that our model using intravesical infusion of substances (PAR4-AP; HMGB1) at doses that cause pain without accompanying micturition or inflammation changes, focus only on one aspect of PBS/IC, namely pain, without addressing increased frequency and urgency commonly seen in PBS/IC. Still these rodent models are useful because they are capable of eliciting bladder pain as a primary effect and not secondary to significant injury and inflammation. As such, they are useful tools in investigating the physiology of bladder pain in health and disease.
It is possible that urine proteases, already elevated in PBS/IC patients, activate urothelial PAR4 receptors to release MIF into the urine [
35
,
36
]. MIF, in turn, activates urothelial MIF receptors to elicit HMGB1 release. Oxidation of HMGB1 in the extracellular space [
6
] or in the urine results in disulfide HMGB1 that binds to either urothelial TLR4 receptors to induce further signaling resulting in bladder pain or may bind directly to the mucosa or possible to elicit bladder pain (Fig.
4
). This schema remains to be validated in the clinical condition in future studies.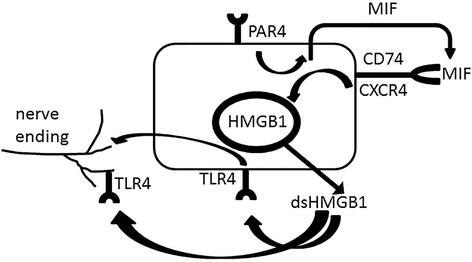 Conclusions
We previously showed that activation of urothelial PAR4 receptors results in release of MIF and HMGB1 increasing abdominal mechanical hypersensitivity without bladder inflammation. We now report that HMGB1 infused directly into the bladder is capable to elicit mechanical hypersensitivity and this effect is produced by the disulfide isoform of HMGB1. Lastly, this effect is mediated by TLR4 receptors in the bladder and can also be modulated by systemic (presumably central) RAGE receptors. Neutralizing bladder MIF, MIF receptors, HMGB1 or antagonism of bladder TLR4 or systemic RAGE receptors may be potential specific and localized targets for bladder pain relief.
Abbreviations
ATP:

Adenosine triphosphate
CYP:

Cyclophosphamide
H&E:

Hematoxylin and eosin
HMGB1:

High mobility group box-1
MIF:

Macrophage migration inhibitory factor
PAR4:

Protease activated receptor 4
PAR4-AP:

PAR4-activating peptide
PBS:

Phosphate buffered saline
PBS/IC:

Bladder pain syndrome/interstitial cystitis
RAGE:

Receptors for advanced glycation endproducts
TLR4:

Toll- like receptor 4
TRPV1:

Transit receptor potential vanilloid 1
VSOP:

Voided stain on paper
Declarations
Acknowledgements
This material is the result of work supported with resources and the use of facilities at the Lexington (Kentucky) Veterans Affairs Medical Center. Judy Glass and Xiu Xu provided excellent technical assistance.
Funding
This study is funded by NIH (DK0093496-02; PLV).
Availability of data and materials
The datasets generated during and/or analyzed during the current study are available from the corresponding author on reasonable request.
Authors'contributions
FM, DEK, KLMS, KNW, DEH and PLV conceived and carried out the experiments, performed the statistical analyses, drafted the manuscript, edited the manuscript and approved the final manuscript.
Competing interests
The authors declare that there are no competing interests.
Consent for publication
Not applicable.
Ethics approval
All animal experiments were approved by the Lexington Veterans Affairs Medical Center Institutional Animal Care and Use Committee (VER-11-016-HAF) and performed according to the guidelines of the National Institutes of Health.
Publisher's Note
Springer Nature remains neutral with regard to jurisdictional claims in published maps and institutional affiliations.
Open AccessThis article is distributed under the terms of the Creative Commons Attribution 4.0 International License (http://creativecommons.org/licenses/by/4.0/), which permits unrestricted use, distribution, and reproduction in any medium, provided you give appropriate credit to the original author(s) and the source, provide a link to the Creative Commons license, and indicate if changes were made. The Creative Commons Public Domain Dedication waiver (http://creativecommons.org/publicdomain/zero/1.0/) applies to the data made available in this article, unless otherwise stated.
Authors' Affiliations
(1)
Research and Development, Lexington Veterans Affairs Medical Center, Lexington, USA
(2)
Department of Physiology, University of Kentucky, Lexington, USA
(3)
Saha Cardiovascular Research Center, University of Kentucky, Lexington, USA
(4)
Department of Natural Sciences, St. Petersburg College, St. Petersburg, USA
(5)
Department of Surgery, University of Kentucky, Lexington, USA
(6)
Present Address: Department of Molecular Pharmacology and Therapeutics, Loyola University Chicago, Maywood, USA